Jean Monnet Module 2016-2019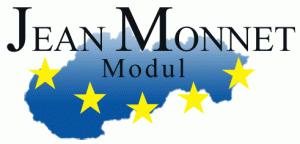 THE ERASMUS+ PROGRAMME OF THE EUROPEAN UNION
Jean Monnet Modules
2016


The EU Financial Sector as a Driver for Sustainable Development: European Integration, Policy Reform and Networked Economy Perspectives
Project number: «575275-EPP-1-2016-1-UA-EPPJMO-MODULE»
Project duration: 01.09.2016-31.08.2019
Key persons:
Professor Buiashenko Victoria - Rector of The Academy of Labour, Social Relations and Tourism, person authorised to represent the organisation in legally binding agreements (legal representative).
Associate Professor Liudmyla Huliaieva - person responsible for the project management, project coordinator, module leader, Scientific Secretary, Associate Professor at the Department of Finance and Marketing at The Academy of Labour, Social Relations and Tourism.
The project activities are training and research in the field of the European Studies of the financial sector's impact on sustainable development.
The project aims to:
Promote the innovative view on the EU financial business as a sustainable sector of the European economy for new generation students, professional groups and civil society representatives in Ukraine.
Equip students and young professionals with knowledge of EU financial sector development relevant for their academic and professional lives and enhance their civic skills.
Improve the quality of professional training in Ukraine and EU through creating a course on new European subjects.
Forming a new type of consumers (through education, research activities, events) of financial services that demand from financial institutions high quality services and socially responsible behaviors.
Promote research and first teaching experience for young researchers in EU issue.
Foster the publication and dissemination of the result of academic researchers.
Project activities:
1. The course «The EU Financial Sector as a Driver for Sustainable Development: European Integration, Policy Reform and Networked Economy Perspectives»
2. The research «Best sustainable practices in the European banking».
3. Events:
Organisation of the international conference «The financial sector EU and sustainable development: European experience, strategic orientations for Ukraine».
Workshop «Crowdfunding in EU as new investment vehicle with a sustainability focus».
The contest of research of young scientists «The role of the finance sector in achieving sustainable development: European experience and the possibility of its implementation in national practice».
Roundtable debate «Implementation of the best EU practices to create sustainable financial sector in Ukraine».