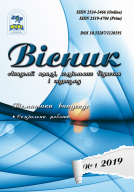 Journal of ALSRT, 2019, №1
Issue topics:
EDITORIAL
Victoriia Buiashenko. University science today: quantity or quality
STUDIES IN SOCIAL WORK THEORIES AND HISTORY
Alla Yaroshenko, Tetyana Semigina. Feminist social work as professional investments in women's solidarity
SOCIAL PRACTICES STUDIES
Sergii Dvoriak, Olena Karagodina, Victor Chtenguelov, Iryna Pykalo. Ten years of the OAT implementation experience in Ukraine. What further? (Second part) (ENG)
Olha Baidarova, Olena Karagodina. How to develop an effective professional competencies model for workers involved in protection of children rights and interests in Ukraine?
EDUCATIONAL STUDIES
Oksana Boiko. Social work doctoral education in Great Britain: focus on the labour market
SOCIAL WORK ETHICS
Tetyana Semigina. New global ethical principles of social work
Ana Marija Sobočan, Teresa Bertotti, Kim Strom-Gottfried. Ethical considerations in social work research
RESEARCH OF SOCIAL PHENOMENA
Tetyana Semigina, Julia Barska, Victoriia Tymoshevska. Behavioral determinants of health (results of the national representative survey "Heath Index. Ukraine")
RESEARCH ACTIVITIES OF THE ACADEMY
Maryna Karagodina. The competition of research accomplishments of academics from Academy of labour, social relations and tourism
INFORMATION FROM THE FEDERATION OF TRADE UNIONS OF UKRAINE
World Congress of the International Trade Unions Confederation